Sun Valley Lodge is a beautifully designed home nestled in the heart of the majestic Tahoe Donner. With a spacious and comfortable open floor plan, this three-bedroom, two-and-a-half bathroom is near everything the Tahoe Donner area has to offer, making it a perfect vacation rental for families and groups of friends looking for a luxurious mountain experience! Whether you're planning a winter getaway or a summer adventure, Sun Valley can offer an idyllic year-round mountain experience - book today! 
Amenities
Kitchen
BBQ Area
Garage
Garden or Backyard
Patio or Balcony
Hot Tub
Skiing
Wifi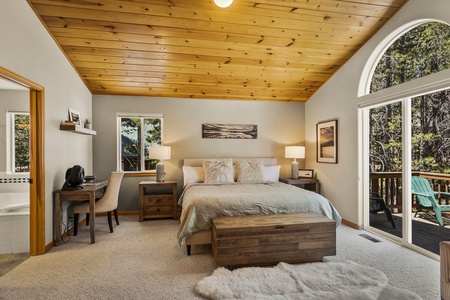 Bedroom 1
1 King, Sleeps 2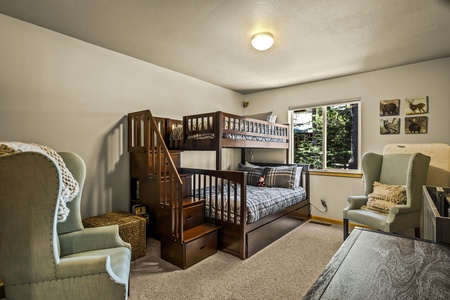 Bedroom 3
1 Twin 2 Doubles, Sleeps 3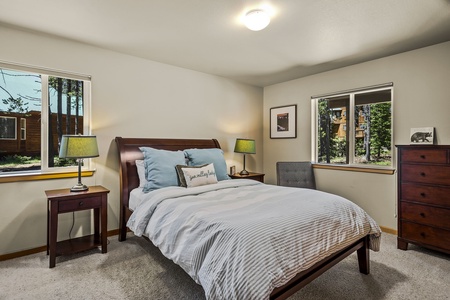 Bedroom 2
1 Queen, Sleeps 2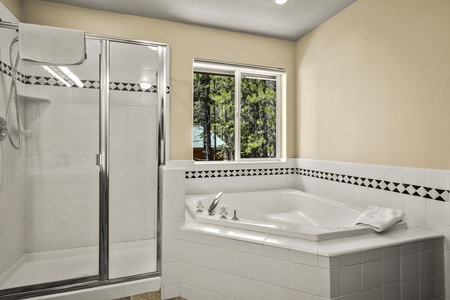 Bathroom 1
Full Bath, Walk-in Shower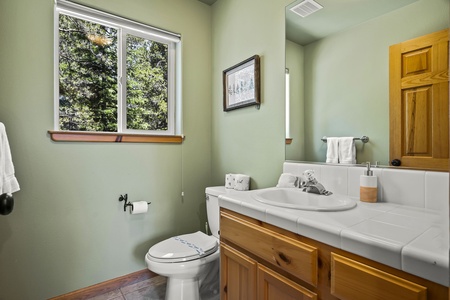 Bathroom 3
Half Bath,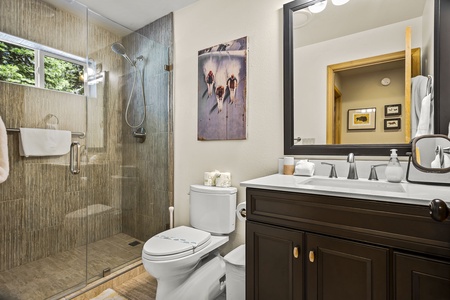 Bathroom 2
Full Bath, Walk-in Shower
Loved our stay!
Our stay here was perfect for my family. It felt cozy and homey. The place was exactly as pictured. Spotless, which allowed us all to feel very comfortable. The dining, kitchen, and living areas were spacious for the 6 of us. The amenities were plentiful and thoughtful - we absolutely loved using the fireplace and hot tub each night! The property managers were very responsive via email prior to our stay.
- Cerise A.
Excellent stay with toddlers
We had a wonderful time in Truckee at this beautiful well-appointed cabin. The hosts were extremely attentive and accommodating and the home had everything we needed plus extras. We used the crib, the board games, children\'s books, and all the cooking gadgets. We also enjoyed the sleds. We had two 2-year olds and a 4-year old who all delighted in the bunk bed and spacious home to run around in. There are corner-guards on the counter top.
- Lauren L.
Great place
We had a great time! The cabin was super spacious, cozy, and just enough isolation. The hot tub was perfection, the tv setup was great, and the beds were ultra comfortable. Great place, will definitely book again this summer!
- Miles H.
Excellent
This house is a great find in Tahoe Donner. The layout is great for two families or one big family. Plenty of sleeping space for kids and a nice open kitchen and living room for hanging out. The house is fully equipped and clean. We would definitely rent this house again.
- Meghan E.
Wonderful
Amazing house really well equipped. Very comfy beds. Toys, sledges etc in garage. The website said there would be no condiments etc but there was oil salt pepper sugar dishwasher tablets toilet roll etc so we needn't have brought all of that! Never mind it was great that it was there. Lovely hot tub. Perfect for a big family sleeps more than 6 if you needed due to sofa bed in office and roll out bed under bunk beds. Great skiing at Boreal.
- Isabel C.
Excellent
This was our first time going to Truckee. coming from Mendocino County where we rarely see snow it was an amazing experience. The cabin was beautiful and had everything anyone would need. I love how fast they replied to my messages. Thank you!
- Alejandro G.
Excellent
2nd stay at this lovely, cozy home. Perfect place for our family!! Beautiful house, location and plenty of baby stuff so we don't have to travel w/ our pack n play, books, high chair etc 🙂 thank you!!!
- Hannah B.
Great stay!
Check in was easy and instructions we're clear. This home has everything you would need for a young family. We enjoyed making meals in the well equipped kitchen. The hot tub was great after being on the slopes. We took evening walks around the neighborhood, a great stay.
- Deirdre D.
Amazing cabin!
The cabin is amazing, spacious and beautiful! I hope to be able to stay in this cabin again in the future.
- Monica M.
Excellent
Such a fantastic time at this beautiful home! Will definitely stay again.
- Scott D.
Amazing home!
Sun Valley Lodge was an awesome getaway for our family, we loved spending time together in the living room, and enjoyed the hot tub, the flat lot is wonderful and it came with baby gear. I loved having a separate space to catch up on work, we plan to be back this summer.
- Amy L.
Property Location: Truckee CA