Escape to the tranquility and elegance of Secluded Stony Creek Lodge, a stunningly renovated vacation getaway with easy access to Truckee's attractions while still providing a secluded retreat to relax and recharge. Step inside this magnificent Lake Tahoe vacation home and be greeted by a perfect blend of charming mountain chalet features, modern furnishings, and natural light streaming through the stunning floor-to-ceiling windows lining the walls of the living room. Secluded Stony Creek Lodge is the perfect vacation getaway, offering the ultimate blend of tranquility and style with easy access to Truckee's attractions. Book your stay today and experience the best that Lake Tahoe has to offer.
Amenities
Kitchen
BBQ Area
Garage
Patio or Balcony
Grill
Skiing
Wifi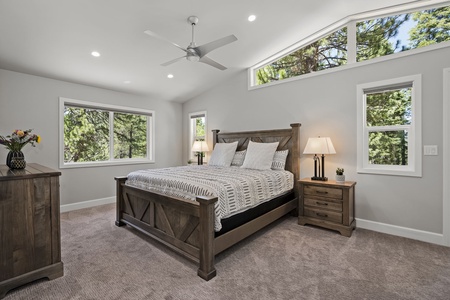 Bedroom 1
1 King, Sleeps 2
Bedroom 2
1 Queen, Sleeps 2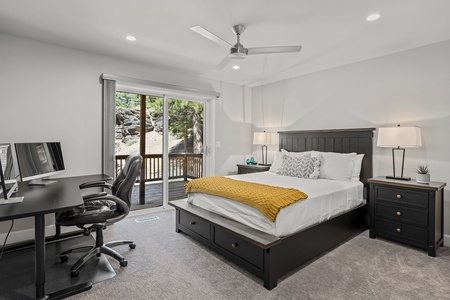 Bedroom 3
1 Queen, Sleeps 2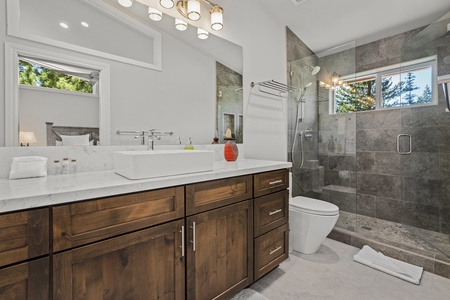 Bathroom 1
Full Bath, Walk-in Shower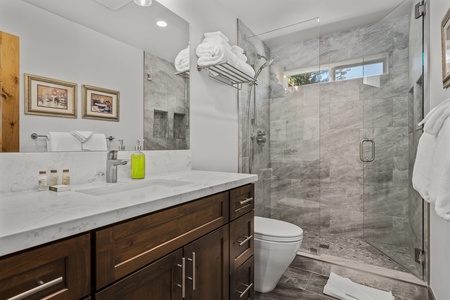 Bathroom 2
Full Bath, Walk-in Shower
Our family had an amazing time
Our family had an amazing time in this beautiful, secluded property. The house was very clean and welcoming, with comfy bed, beautiful kitchen and dining area, convenient grill and outdoor sitting.
- Magda C.
Great Stay
Wonderful! Everything as represented and very comfortable. We would definitely book again.
- Melissa K.
Great Experience
Let me start off by thanking Joseph on helping us book our stay. We had an amazing time renting this house out for a few days. We would definitely rent again. Though there were a few problems, I called Joseph and reported them right away. Joseph sent out a maintenance person out to check. The customer service they provided were A+. We would definitely be a returning renter again!
- Janine P.
Excellent
Nice and cozy house, beautiful views from each corner. Easy to check in and good service from Tahoe property agent!!!
- Rimma P.
Excellent
Such a beautiful home in a very private, peaceful neighborhood. Lots of land and no immediate neighbors! The home is recently renovated with nice bathrooms and kitchen. This was a great getaway for our family!
- Emilia O.
Wow!
What a beautiful home, it\'s newly remodeled and nicely appointed, and we all had space to spread out. Loved the very big kitchen, and the bathrooms are gorgeous but our favorite part was the large secluded property, we played in the snow with the kids and we will sure be back.
- Ashley H.
Great time!
Beautiful place nested in wilderness in Tahoe. Had everything necessary to make our stay comfortable.
- Sunpreet A.
Perfect getaway
Everything was just as pictured Beautiful home to spend your getaway.
- Lyllyiam J.
Secluded and beautiful
I would definitely recommend this place to everyone, private and nature is beautiful
- Ahmad M.
Clean, comfortable stay
The cabin was a clean, comfortable, beautifully secluded space surrounded by trees. It was a nice, relaxing getaway. Access to the Truckee community amenities would have been nice. The public beaches get packed! It did get hot in the cabin without air conditioning, but cooled down at night.
- Kyle H.
Property Location: Truckee CA