Located right on the Truckee River, the unique Holy Cow Downtown Riverfront is the perfect holiday retreat for anyone looking to explore historic Truckee! With a distinct yellow exterior, this bright, three-bedroom, two-and-a-half-bathroom character home is a beautiful property and within walking distance to the train station and downtown Truckee! With so many nearby attractions and year-round activities, you'll want to book the Holy Cow for your next Tahoe vacation, today!
Amenities
Kitchen
BBQ Area
Hot Tub
Skiing
Wifi
Luxury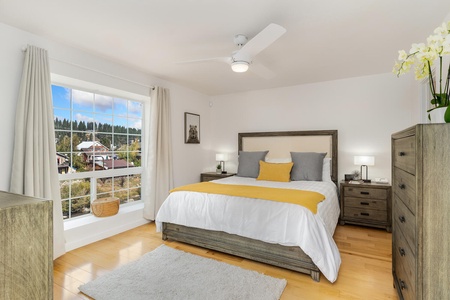 Bedroom 1
1 King, Sleeps 2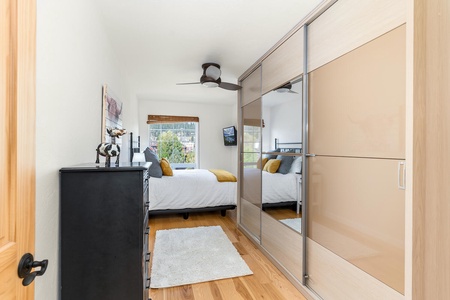 Bedroom 2
1 Queen, Sleeps 2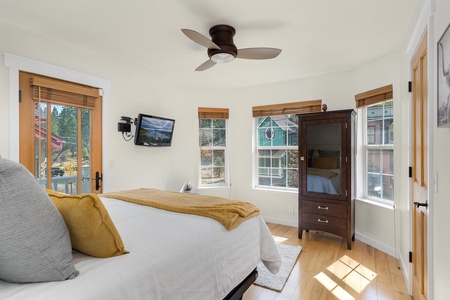 Bedroom 3
1 Twin, Sleeps 2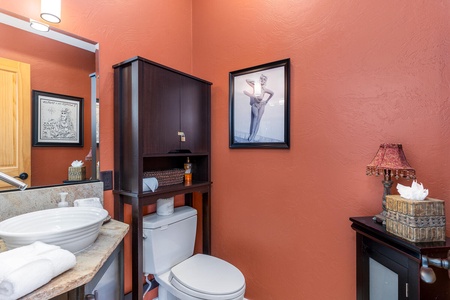 Bathroom 3
Half- Bath,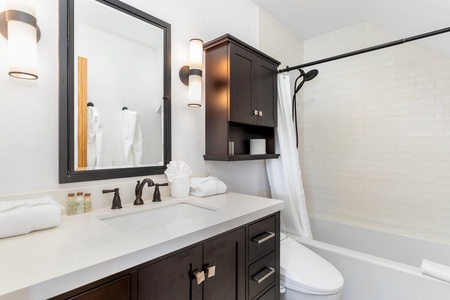 Bathroom 1
Full Bath, Shower-tub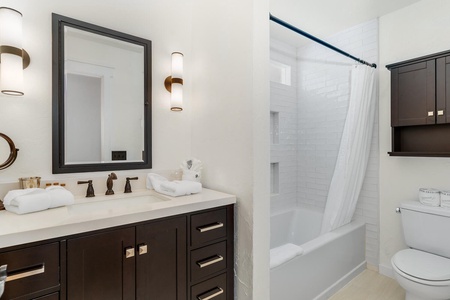 Bathroom 2
Full Bath, Shower-tub
Excellent
What a beautiful place! Thanks so much.
- Ryan B.
Holy Cow
House was great!!! We had a blast. One of the note pages indicated complimentary passes to Donner Ski Ranch - we didn\'t see any - boy that sure would have been nice since we all went there.
- Rich H.
Great house in downtown Truckee
This house was perfect for our family of 3 (and could have fit a couple more people as well). We were comfortable, cozy and warm despite freezing weather and storms. The hot tub was amazing, and everything worked perfectly. The commute to Northstar for skiing was easy, and we loved being able to walk to restaurants and shops in Truckee! We would definitely stay there again.
- Laura K.
Couldn\'t Have Asked for Better
A beautiful home in a beautiful little town- the perfect place for our stay.
- Meggan S.
Wonderful stay in Truckee!
We had such a wonderful stay in Truckee! The house is beautiful, the views are great of the river. The house provided everything that we needed, including ear plugs! To note, trains run through the middle of town at all hours. Our boys loved the cow out front and throwing rocks in the river. We hope to stay here again soon!! Thank you for hosting us!
- Jenna L.
Perfect home!
Wow what an amazing location. Right on the river, super easy walk to down town. Truckee is a Gem, cute shops, great dining, river, and all nestled in the trees. Holy Cow house, is amazing, a great kitchen, stupendous deck to watch and listen to the river, and the topper, that hot tub. Morning coffee in the tub and late night star gazing, just prefect. We love this place and you will too...
- Jim F.
Great location
Beautiful home, 2 min walk from downtown, and right along the water. What else could you ask for?!
- Tucker S.
Excellent
We love this home! It is the perfect location on the river and easy walk to Truckee for restaurants and entertainment. Beautiful views of the river including a small sandy beach area! The home is furnished with everything you need...most things are brand new including the bedding and towels and remodeled bathrooms. The owner even left us a welcome gift...fudge from the local sweet shop in town. We will definitely be back and highly recommend this place.
- Rhonda F.
Beautiful house with a beautiful view
The Holy Cow is wonderful! Fantastic view with the Truckee River within steps of the patio. Everything was comfortable and clean. Thank you Diana and Ron, my family can't wait to stay here again!
- Eric D.
Amazing!
We loved, loved, loved this home, we called it \"our house\", this is the iconic Cow house in Truckee that we drove by almost every time we visited Truckee and always wondered what it was like inside. Where do I start, beautiful mix of Holywood and Truckee, we were on a girls\' get-away and it couldn\'t have been better. It\'s been fully remodeled and updated, the bedding is high quality, so are the towels, found Aveda toiletries and the hot tub was divine.
- Fawn U.
The house was beautiful, clean and comfortable
My family had the best time at this beautiful home - amazing views and able to get quickly to ski and sled days. It was so nice to be able to walk to dinners in downtown Truckee when everything was lit up in white lights for the holidays! The house was beautiful, clean and comfortable and we loved the hot tub in the snow too!
- Cynthia L.
Location, Location Location!!!
Location, Location Location!!! The property was perfect for my family! Everything was perfectly clean and the views out the back windows were beautiful!! We could walk to the shops and restaurants. We snowboarded at the Palisades and it was less than 15 minutes drive. Unfortunately we had to leave a day early due to the winter storm but that\'s mother nature!! We are definitely returning to this property.
- Dana G.
Amazing home in downtown Truckee!
We had a fabulous stay in the Holy Cow Downtown Riverfront. The location can\'t be beat with the Truckee River flowing by, downtown Truckee within walking distance, and central to all that Truckee/Tahoe has to offer. The hot tub was great after a day on the slopes. This home was perfect for our family of 4. We\'ll definitely be back!
- Toni .
Property Location: Truckee CA