Our Exquisite Alpine Chalet offers guests the chance to stay in style in one of Truckee's most sought-after neighborhoods. This recently renovated property with interior design by local Tinsel House Studio, features clean lines, warm, rustic elements, high-end, comfortable furniture, and designer art and decor. With plenty of space to host larger groups, if you're looking for a large holiday rental that is sure to impress, book Exquisite Alpine Chalet direct, today!  
Amenities
Kitchen
BBQ Area
Garage
Patio or Balcony
Grill
Hot Tub
Skiing
Wifi
Luxury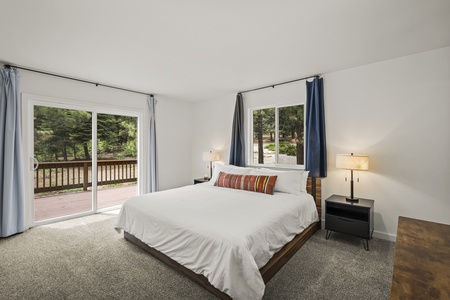 Bedroom 1
1 King, Sleeps 2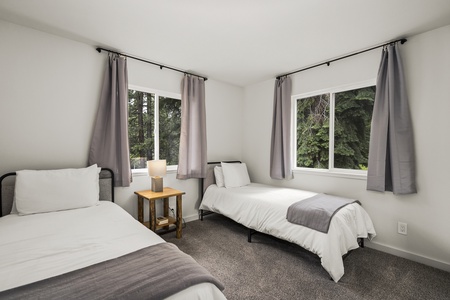 Bedroom 2
2 Twins, Sleeps 2
Bedroom 3
1 Queen, Sleeps 2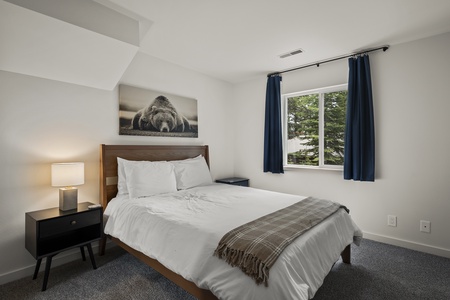 Bedroom 4
1 Queen, Sleeps 2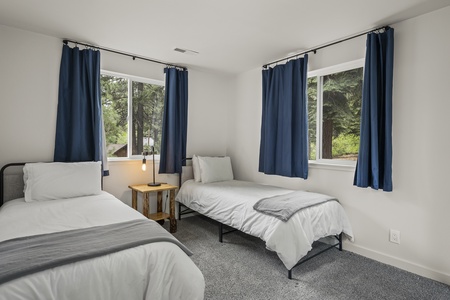 Bedroom 5
2 Twins, Sleeps 2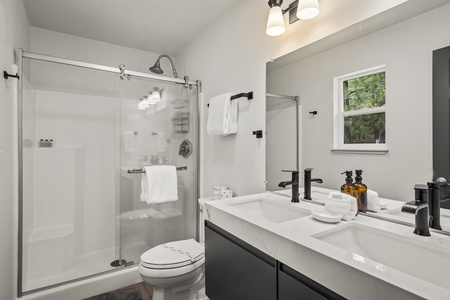 Bathroom 1
Full Bath, Walk-in shower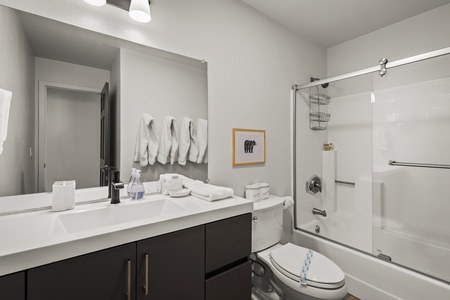 Bathroom 2
Full Bath, Shower-tub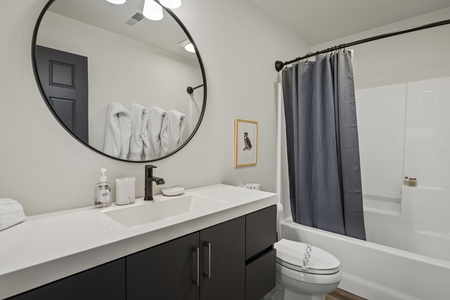 Bathroom 3
Full Bath, Shower-Tub
10/10
This chalet is everything we could ever want! It was clean, new appliances, a lot of space, quick drive to Palisades Tahoe and overall lovely. The only \"issue\" would be the very icy driveway, but you can get used to that! We would 100% stay here again when we are back in town.
- Olivia B.
Fun Stay!
Lovely home and amenities. We had a super fun stay at this Airbnb.
- Parag M.
Awesome Alpine Chalet!
Our stay was excellent. Booking was easy...check-in & check-out was smooth. The cabin was amazing with great amenities and was perfect size for our group. Will be coming back 100%!
- Kevin R.
Amazing Long Weekend Getaway!!
Have to say was not expecting this property to so beautiful. When we walked-in, I had to check my reservation to make sure we were in the correct house. The kitchen and living space were wide open so that we could socialize all the time with each other, and the extra kitchenette downstairs was perfect for all the drinks and bar set up. We would book this again; it was perfectly set up for a friend\'s getaway.
- Estel L.
Amazing place!
Great property and exactly as it is presented on the Airbnb app. 2 separate living areas, the min living area is fantastic for everyone to meet and congregate over the fire place or TV and the outside decking is comfortable. I\'d recommend this property as one to experience
- Yoong C.
Perfect stay!
This house was nothing less than perfect! My family and I look forward to booking again for winter time!
- Jackie P.
Great stay
We were happy with all aspects of this home and would recommend staying there.
- Travis M.
Great place, great area
Highly recommend, great place, very clean
- Joshua M.
Lovely Home in Convenient Location
he home was newly remodeled and questions from property manager were answered promptly. No air conditioning but there was a large portable fan and bottom floor was very cool and comfortable. Upper floor had a ceiling fan and after it cooled down the decks were enjoyable
- Rachel K.
Amazing
We were happy with all aspects of this home and would recommend staying there.
- Travis M.
Enjoyed my stay
Good Nicely renovated and cleaned up Garage parking Internet is stable Bad Wi-Fi is using WPA not WPA2/WPA3. Downstairs AP should probably use Ethernet backhaul and maybe not just randomly sit on the floor. Flooring is uneven in random places Main TV remote center button doesn\'t work, breaking pretty much everything. We just used a Chromecast anyways.
- Ricky W.
Nice amenities and very comfortable
Updated with nice amenities and very comfortable for a group
- Morgan E.
We loved our stay at this property.
We loved our stay at this property. Everything was as advertised. Hot tub was high quality and there was plenty of space for our group to spread out. We had to communicate with the management company one time and they were incredibly friendly and quick to respond. Thank you for a great stay!
- Hamish F.
The set up of the house is wonderful for a family and friends retreat
We enjoyed our stay at the house a lot. The house was very clean and looks newly remodeled. The set up of the house is wonderful for a family and friends retreat. Everything was great during our stay.
- Dora P.
Wow, beautiful home ?.
What a great home away from home, spacious and very clean, all the amenities you need for a relaxing getaway, would definitely stay here again. The management company was easy to work with and very attentive.
- Amy H.
Property Location: Truckee CA