Looking for the perfect vacation rental in the Tahoe Donner area? Camp Howdy Vacation Rental is a spacious home with a warm, inviting atmosphere for those seeking a cozy and comfortable mountain retreat. This three-bedroom and two-bath home is ideally located in the Northstar neighborhood near everything Tahoe Donner has to offer! 
Amenities
Kitchen
BBQ Area
Garage
Patio or Balcony
Grill
Skiing
Wifi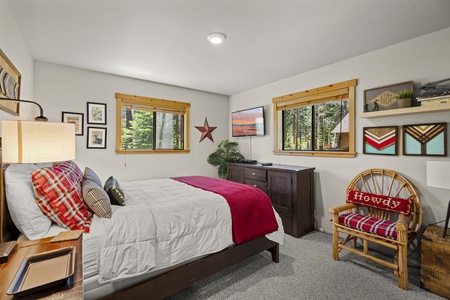 Bedroom 1
1 Queen, Sleeps 2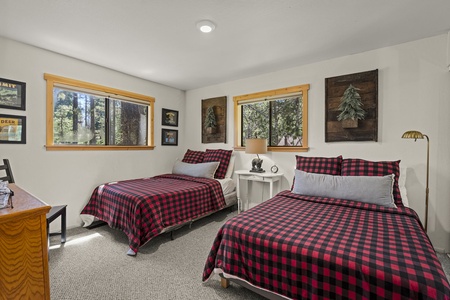 Bedroom 3
2 Twins, Sleeps 2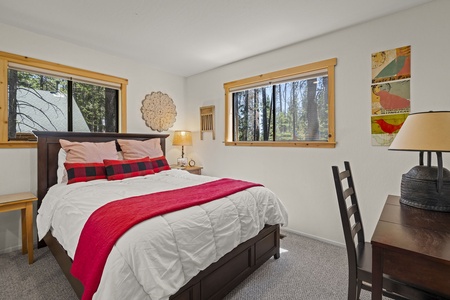 Bedroom 2
1 Queen, Sleeps 2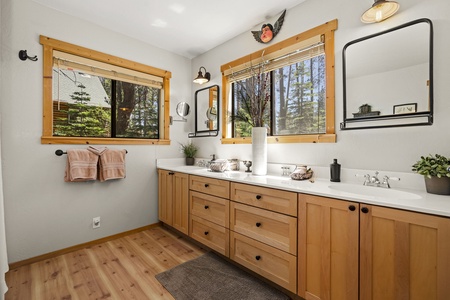 Bathroom 1
Full Bath, Shower-tub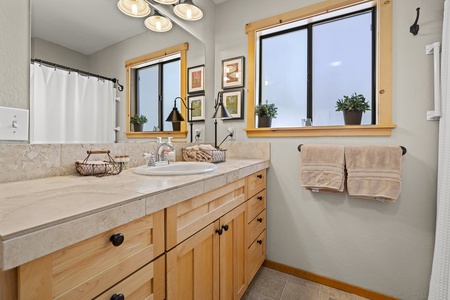 Bathroom 2
Full Bath, Shower-tub
Wonderful family memories were made!
My excitement was a super stocked kitchen with everything we needed to cook! Decor was great - they have worked hard to make it very cozy, inviting and comfortable for families! We will definitely stay there when we visit the area again! Wonderful family memories were made!
- D\'Anna B.
We loved our stay.
We loved our stay. We especially enjoyed easy access to the Tahoe Rim Trail.
- Karin J.
Truckee stay - Camp Howdy in Tahoe Donner
Overall excellent stay. No complaints. Everything checked out as emailed. We as a family enjoyed the trip and the stay. Excellent location.
- Kumar N.
Camp Howdy!
The house was very cozy and comfortable! It was very clean and well supplied. Thank you for the courtesy phone call to check on us. It was exactly as advertised. We had a wonderful family weekend and will definitely return! Thank you so much! Susan Sather
- Susan S.
Spring Break
Cabin was clean, cozy and had everything we needed to make our stay perfect.
- Susan R.
HIGHLY RECOMMEND!
Amazing experience all around. Property was fantastic, cozy, clean and well equipped. Location was incredible, Thank you for sharing this property and allowing us to create such beautiful memories.
- Robert S.
Great time at Camp Howdy again!
This is our second time at Camp Howdy, it\'s a cozy place with everything we needed, very warm and comfortable. We love to be able to hike around behind the house during big snowfalls. Will definitely be back!
- Sara H.
Clean house in very good location.
The location was great with easy access from the main road. The initial impression was good when open the door - well decorated and cozy atmosphere. The kitchen is remodeled and well-equipped but wished for newer cookwares because some of them were worn out quite badly. Also experienced great service from the rental agent when I couldn't turn on the facet in a bathroom. Although I messaged them late evening, they responded very quickly to help me out and it was resolved soon.
- Chan H.
Excellent
Camp Howdy was fantastic! My family and I had a wonderful long weekend enjoying Truckee and this lovely cabin. It has everything you need to relax, cook lovely meals, and create memories. We were so appreciative that we were able to get a late check out on Sunday allowing us one more lovely morning.
- Cheryl P.
Excellent
It was a great lovely place , highly recommend there to everyone Super clean neat beautiful house! We definitely get back there in the next trip !!!
- Mahtaj H.
Camp Howdy
That is the best rental experience we have ever had at Tahoe Donner. We will definitely be renting the Camp Howdy house again next year. Loved it and all the amenities it offered.
- David L.
This was the perfect place
This was the perfect place for our 2 families of 4 adults and 2 kids. I\'ve stayed in a lot of Tahoe rentals, and this is the best so far for this size group. It was really important to us to find a house with 2 bathrooms that were NOT en suite, as that puts everyone but one couple at a disadvantage. So that box was checked.
- Star L.
Well set up house
We\'ve stayed all over this neighborhood and this was the most convenient location yet. The house is updated and although not very large, fit our family of 5 perfectly. Lots of open space for snow play, easy in and out from Northwoods Blvd, and a well set up house.
- Harry H.
Loved Camp Howdy!
Thank you for a wonderful couple of days away in Tahoe! We loved the cabin, it was comfortable, clean and had almost everything we needed. While the TV media wasn't as high tech as we are used to, it was probably for the better.....we played more games and read more books! The location was perfect and we will definitely check back next winter to stay in one of your rentals in the area. Thanks!
- Dawn A.
We loved staying at camp howdy!
We loved staying at camp howdy! It was clean and very homey with all the things we needed to make our stay nice and relaxed. It was the smallest cabin we have stayed in but didn\'t feel cramped at all . It was a cute , quaint , nicely decorated cabin with all the attention to detail. We would stay at camp howdy again the beds were very comfy and we had a wonderful night\'s sleep.
- Marissa M.
Our second stay did not disappoint!
Our second stay did not disappoint! My only suggestion is more paper products. It was our experience this summer that there wasn't enough TP or paper towels. We were prepared and brought extra this time and they were needed. Everything else is just the best!
- Jo A.
Excellent
We had such a wonderful cozy stay at camp howdy!! Right away when we walked in we were so happy with how clean and cute it was. The attention to detail in the decor made everything feel so quaint and homey. The beds were comfortable, the kitchen had everything we needed. They had the snow shoveled off the deck from a snow removal company, all we had to do was sit next to the big fireplace and chill after our snowplow.
- Marissa M.
Very lovely stay at Camp Howdy
Very clean, close to skiing. Thank you for opening up your home we had an amazing time!
- Laura C.
Camp Howdy was great
Had a wonderful time at Camp Howdy. Support staff was very supportive and communicative around the stay.
- Tim M.
Definitely hope to come back
We really enjoyed our stay at Camp Howdy. This is a fairly modestly sized cabin, but perfect for groups 6 and under. It was just three of us up there, and it was very cozy, warm and inviting. Well equipped. Great location as well. Definitely hope to come back
- Peter E.
A great place
My family and I just got back from Camp Howdy and we had a terrific time. Our family tends to cook most meals at home in the places we stay, and the kitchen was very well stocked with every pot, pan , & utensil you would need. The grill was great too. The house was cozy and spacious enough for our 3 generation family of 5, with the grandparents staying on the ground floor, and the rest above.
- Jessica M.
Very cool house
Very cool house loved the property very relaxing and peaceful loved the hiking trail behind the house my kids had a blast catching lizards
- Christina T.
Property Location: Truckee CA