Our Serene Vacation Getaway Northstar Vacation Rental is a peaceful three-bedroom, two-full-bathroom home in the beautiful resort town of Northstar. Newly remodeled, this property offers a stunning and inviting space for family and friends to enjoy the stunning Californian mountains. With large main living areas and cozy bedrooms, this vacation rental is the perfect place to unwind and enjoy the company of loved ones. Ideal for year-round recreation and everything else that Northstar has to offer, including shopping, dining, entertainment, and amenities in the Village, this vacation rental is the ultimate destination for a dream vacation.
Amenities
Kitchen
BBQ Area
Gym/Fitness Room
Pool
Skiing
Wifi
Bedroom 2
1 King, Sleeps 2
Bedroom 1
1 King, Sleeps 2
Bedroom 3
1 Bunk , Sleeps 2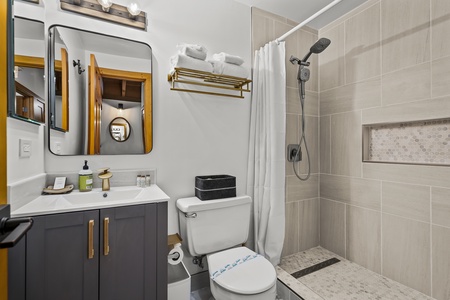 Bathroom 1
Full Bath, Walk-in Shower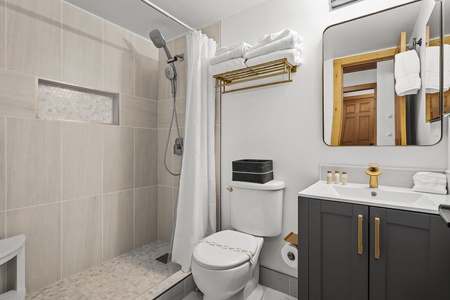 Bathroom 2
Full Bath, Walk-in Shower
Great place, convenient to the slopes
Wonderful, newly updated place, with great finishings and plenty of dishes and such to accommodate our family. We enjoyed the convenience to the slopes and the information and communications up front were superb.
- Linda H.
Perfect Location
Overall this condo was definitely one of the better condos we have stayed in at Gold Bend. Set up was good for the number of people we had(6). The beds were super comfy. Great location to the Village and skiing. Easy hop onto the shuttle. Really clean and had mostly everything you needed from bath linens to a fully stocked kitchen. The only thing was we were left with only a couple of dishwasher pods so ended up having to do some dishes by hand.
- Jennifer G.
Wonderful home and vacation!
This property was beautifully close to Northstar Village. We appreciated the shuttle in and out of the village after skiing. It helped us avoid traffic backups and full parking lots. This property also has wonderfully comfortable beds and plenty of kitchen amenities. It was really nice to have an extra vanity and sink in the upstairs bedroom so that the two bathrooms with toilets were more available to our full house of seven guests.
- Ingrid D.
Property Location: Truckee CA