Experience the unparalleled beauty and exhilarating adventures of North Lake Tahoe during your stay at Mountaintop Tahoe Donner Getaway. Our remarkable vacation rental is ideally situated in close proximity to all that North Lake Tahoe has to offer, and is thoughtfully constructed on the mountainside, allowing guests to relish in breathtaking views of the surrounding area. Boasting four spacious bedrooms and three and a half luxurious bathrooms, this meticulously outfitted home provides ample room for families or larger groups seeking the ultimate mountain retreat.
Amenities
Kitchen
BBQ Area
Garage
Patio or Balcony
Skiing
Wifi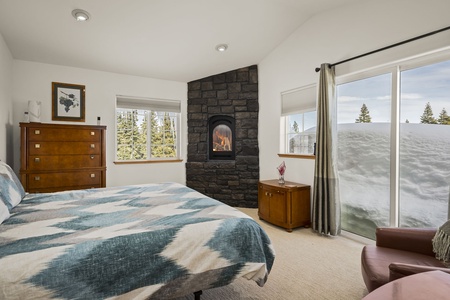 Bedroom 1
1 King, Sleeps 2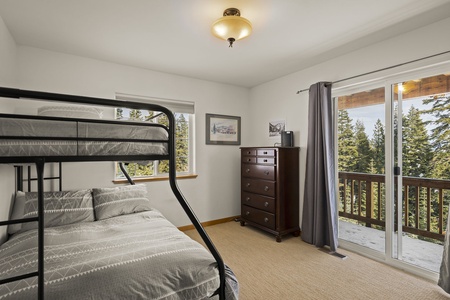 Bedroom 4
1 Bunk, Sleeps 2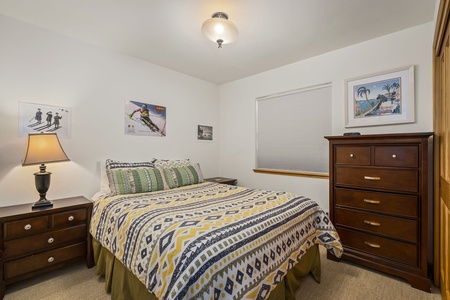 Bedroom 3
1 Queen, Sleeps 2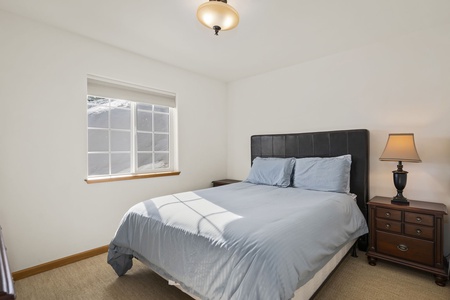 Bedroom 2
1 Queen, Sleeps 2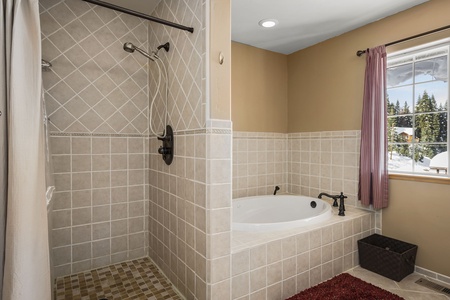 Bathroom 1
Full Bath, Walk-in Shower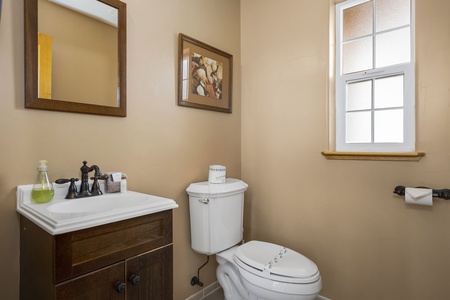 Bathroom 4
Half Bath,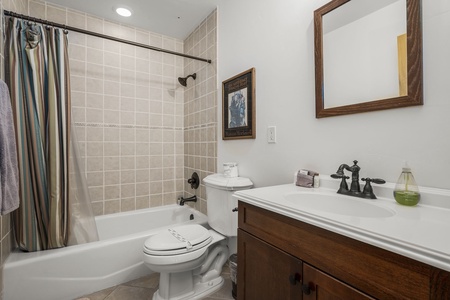 Bathroom 3
Full Bath, Walk-in Tub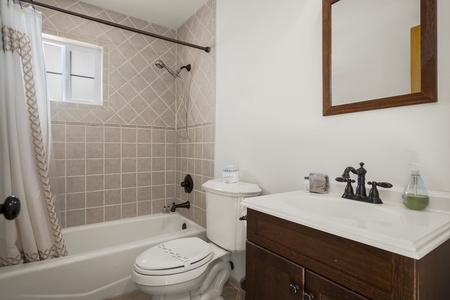 Bathroom 2
Full Bath, Shower-tub
Wonderful stay - minor items need fixing
We absolutely loved our stay. The house has an amazing open feel that looks out on to the mountains of Tahoe. There are a couple of items that need attention, but other than that I would highly recommend this property.
- Kristin R.
Excellent
We loved this place. They provided extra paper towels, trash bags, Aluminum foil, etc. Most places only provide single items and don\'t provide items like Aluminum foil. I also enjoyed the dishes and pans. It\'s nice to have nice items like you do at home. The only negative thing is they have a car in the 2 car garage and a lot of locked closets, so in the master bedroom I didn\'t have a closet to hang my clothes.
- Kristie L.
Truckee Getaway
This cabin is gorgeous. The views are amazing. The house is well laid out if you have older children there are 3 nice bedroom on the bottom floor and nice family area. The upstairs area is open with a nice seating area with an amazing view. There is also a nice main bedroom on the upper floor. The kitchen has everything that you need to cook at home. We made a fun sled run on the side of the house.
- Stacy W.
Excellent
A beautiful cabin with excellent views! Very close to downhill and cross-country skiing. Well appointed, very clean and with lots to do (great book selection, toys and books for kids, even a keyboard). We very much enjoyed our stay and would love a chance to come back in the future!
- Sergey S.
Wonderful Home
Perfect for a family get together at Thanksgiving. Appointed with everything you need. Very clean. Views were magnificent. House is spacious. Lovely house -would stay there again!
- Lorraine P.
Amazing!
Great house! Very spacious and awesome views off the back deck.
- Chad R.
Excellent
Great house! Very spacious and awesome views off the back deck
- Chad R.
Above Average
View was great as described.
- Roxanne I.
Wonderful weekend getaway
Our family had a great time staying here over Memorial Day weekend! Lovely home equipped with everything for the family! It was like a home away from home! Beautiful morning views, quiet neighborhood, close to town and activities!
- Andrea M.
Great getaway!
This was our second time at the Mountaintop Tahoe Donner home. We love this place! It has plenty of space and includes all the amenities needed for a comfortable stay. Our favorite part was sitting on the back balcony with a glass of wine enjoying the beautiful views. We will definitely be back!
- Yvette B.
Generosity and kindness during a challenging time
We recently had to leave our month long rental after only a week because of the smoke and nearby wildfires. We had traveled cross country to live near our kids for part of the summer and this was a dream we held all through the pandemic. With conditions deteriorating, we had no choice but to leave and return home. The staff at Tahoe Signature Properties were unfailingly supportive and flexible. They arranged a generous accommodation for our unused time in the mountains.
- Randi K.
Great Views
The views were great and the house was very pleasant. Unfortunately we were hit with a lot of smoke from the Dixie fire, and it was warm. The house, as we knew, did not have AC, and was indeed warm upstairs with no real way to cool down due to smoke! There were some minor inconveniences (such as no table on outside deck) but the rental management group addressed each and every issue in a timely manner! Enjoyed the house...just not the smoke! Well equipped kitchen, comfortable beds...
- Tracy S.
Great place.
Great place. Close to everything - slopes, Tahoe, Donner Pass. The house was so clean and plenty of instant hot water. 2 balconies with chairs outside to see the sunrise or sunset. The neighborhood is peaceful. The kitchen is great! Big fridge for groceries and gas stove. Lots of workspace to do cooking, which our family enjoyed.
- Maria S.
Excellent
The house was in a great location with plenty of light throughout the house. It was clean and well stocked given COVID protocols. Our family had a great time there.
- Ed L.
We will definitely be coming back!
We spent the thanksgiving holiday here and could not be happier. The space was clean and large enough to fit 8 of us comfortably. The house was stocked with plenty of games and puzzles for entertainment. Also, the property management company was super friendly and helpful. We will definitely be coming back!
- Yvette B.
Truckee Weekend Stay
We absolutely loved our stay and could not have asked for anything better. The home was very clean and comfortable, and because of that we ended up staying most of our trip just hanging out at the rental. I would certainly recommend the home to anyone else. My only complaints would be that the internet service was intermittent and led to us having issues with the television at times. Also, the water heating instructions were a bit confusing, but it did not ultimately lead to any problems.
- Adam L.
It was hard to leave.
Beautiful home, great layout, incredible views. We truly loved our stay. It was hard to leave.
- Kathi B.
Celebrate Life
We enjoyed our stay. Thank you for sharing your home.
- Colleen C.
Excellent
The Mountaintop Tahoe Donner Getaway is a beautiful property. It was exactly as pictured. The kitchen has everything you need to create any meal. The decks are so relaxing and the view from the living room is stunning. We plan to stay here again!
- Viginia A.
Everything here just felt comfortable
Everything here just felt comfortable, well stocked in terms of appliances in kitchen, comfortable relaxing home. Great size too with the large upstairs and downstairs spaces, and two patios. Convenient location to trails for hiking/running/dog walks yet far enough from everything to be super quiet.
- Kara T.
Awesome view
Awesome view, private and peaceful. Proximity to lakes and rivers makes for a fun time.
- Benjamin W.
Mountain getaway
great location, beautiful home
- Clare C.
Beautiful home
Beautiful home. Good for families. Get a hot tub on that deck!
- Nicholas M.
A terrific property!
A terrific property! Thanks for sharing your home.
- Teresa S.
Great location with incredible views.
Great location with incredible views. Will stay here next time I am in town
- Werner W.
Home is thoughtfully equipped, comfortable, and attractive.
Poised on a hilltop at Donner Tahoe, this home is thoughtfully equipped, comfortable, and attractive. Our extended family found it almost perfect and enjoyed our stay. Two things would improve the experience: the house has two decks overlooking a beautiful view - but no deck furniture from which to enjoy it. Secondly, the wireless is unreliable and frustrating. Some attention these issues would make this a 5 star+ experience.
- Georgine B.
Property Location: Truckee CA